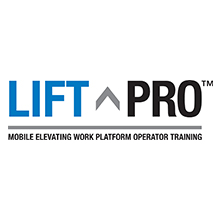 Lift Pro Online Operator Training
Safety is always job one on every work site. Most accidents or equipment damage happens when operators overlook important safety precautions or don't fully understand how to operate equipment. That's why Genie developed this two-part program, delivering a standardized aerials or telehandler training package, to help operators stay safe and fleet owners reduce their repair costs.
Genie Lift Pro Training
Designed by the manufacturer for high-quality, simple and standardized delivery
Meets applicable ANSI, OSHA and CSA requirements
Is applicable to operators of most aerials or telehandler brands, makes and models
How It Works:
Purchase direct from Gold Coast Hi-Lift LIFT PRO AWP ONLINE or LIFT PRO GTH ONLINE
Complete the general training anytime, online and at your own pace. Video, graphics and narration make it easier to follow and learn.
Complete a short hands-on training with your Genie Dealer for
instruction and experience operating the applicable aerial work platform or telehandler models.
Receive your Genie Lift Pro aerial access card verifying completion
of the training required to become a qualified aerial work platform or telehandler operator.